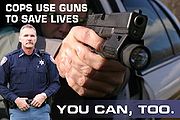 Periodically, NOSC offers CCW/CHL courses to satisfy the State of Ohio requirements for Concealed Handgun License. (CHL)
The cost is $120 with some discounts. This program is run on a break-even basis. Included are the 2 books each student gets to keep, the NRA safety course materials and the best, most comprehensive CCW book our instructors have found to date. Due to an increasing amount of No-Shows to our classes we have implemented a non-refundable deposit ($50) be made at time of registration. You may change your class date seven days prior to your scheduled class if you are unable to attend, but if you simply do not show up your deposit will be forfeited.
It is wise to consider having one's spouse/significant other get their CHL, too. If you must leave your weapon in your vehicle when entering the post office or other restricted non-carry areas, then the person in the car could get charged with a felony. (ORC 2923.16I)
For more info, call Joel Chaney at (216) 258-1380. The e-mail address is: nosc_ccw@weaponology.org.